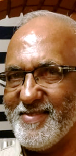 A Bizarre Encounter
An unforgettable turn of an eventful holiday to Sri Lanka in December 2012

The drive from Pinnawala to Kithugala – some 2 hours—was rather smooth. I slept most of the time to catch up the sleep lost in the early morning Srilankan flight from Chennai. After the long and enjoyable halt at the elephant sanctuary, we were tired and were not particularly looking for another halt very soon. Just after the first couple of sightseeing stops, we realized our folly of embarking on a 5-day road trip of Srilanka, which is obviously going to be boring.
As the car pulled up near a restaurant, I got up. My wife, Meera too was trying to catch up with sleep. "We have reached Kithugala, Sir," the driver announced enthusiastically. I checked the itinerary quickly to see the description for the stop. "It's just a short walk to the river from here," the driver said as if he sensed our lethargy. It was almost mid-day. The restaurant was basic. We got out of the car, straightened our clothes, combed the hair by hand, entered the café and settled down for some light snacks and drink. "Is there a good place for lunch on our way?" I enquired. The driver gestured to take care. We then followed the driver to the banks of the river. As we took a turn, the river was in sight. There were some 20 tourists, many of them Europeans, along with their respective local guides. For us, the cabby doubled as our guide. This not-so-charming- river shot into fame as a tourist attraction after the famous David Lean movie "The Bridge on the River Kwai" was filmed here. Looking at the river one could hardly connect the river with the memory of the grand movie. The driver took us to the spot where most tourists were. He didn't offer us much explanation either about the river or the movie – that was the spot, by the way, the bridge was set up.
We spent about 15 minutes, relaxing at the river and taking some pictures. Overall, the surrounding was not very impressive, and we were still tired and sleepy. I signaled the driver, who was talking to other guides, to move on. He then approached. Pointing to a small house perched a little away from the river, the driver said 'there lives an old man who was part of the film's crew. He has some interesting pictures and drawings of the sets. If you are interested, we can go there. The guides say, it will be worthwhile." We were not too keen, yet decided to follow him.
It was another short walk. There were some half-a-dozen tourists in a queue looking at a couple of albums and a few laminated ink drawings in a poorly lit room. An old man, sitting on an easy chair in an anti-room, looked in his late 80s. He was fair and sharp featured. He must have been a handsome young man, I thought. As our turn came, we glanced through the unkempt photos and sketches. The albums did not add much value to the trouble we took, I thought. I was vocal about my displeasure – only thing, I aired my woes in Malayalam that others are not offended. Meera deposited a Rs 100 currency into the box kept there, though I wasn't very happy about it. We were the last to leave the premises. As we were about to step out, the old man struggled to get up, greeted us with folded hands and said, "you speak Malayalam?!" He then gestured us to wait. That was a pleasant surprise. It was obvious that the old man wanted to talk to us much beyond the formal exchange of greetings. He called out for someone. A middle-aged lady appeared from somewhere inside the house. She pulled an old cushioned sofa for us to sit. The man signaled us to sit down and he once again settled on the easy chair.
"Your presence gives me a solace that I haven't felt for a long time," the old man started in Malayalam. I felt a little apprehensive about the blatant praise heaped on us and wondered what could be his motive.
"I feel like a penitent kneeling in front of a confessional. I want to throw out all the pent up thoughts from the depth of my heart that were eating me away from within. I beg for your patience to listen to me." The old man bowed and brought together both his palms to the centre of his forehead. I felt he was silently weeping. Something told me that we must heed to his request.
********
"I am Bhaskaran Nair, people call me Bose. My roots are in Quilon, Kerala. I left home early to join the British army and later landed up in Germany as a POW. I was then recruited to serve the Indian Legion under INA. Later I was taken to Baveria." He paused, and then continued in Malayalam. "At around 20, I was serving at Berghof… in Hitler's kitchen."
I looked straight into his feeble eyes in total disbelief. "You mean Adolf Hitler?!" I asked. He nodded in affirmation. I leaned forward, not to miss even one word of the conversation. The journalist in me, whom I thought died long ago, seemed suddenly resurrected. I glanced at Meera sitting at the other end of the sofa, and she had already fallen asleep. From then on, my mind was an empty vessel waiting to be filled-in with the old man's words.
And he continued….
" I still remember that day very clearly as if it happened yesterday. Every time the thought comes up, I shudder. A dark cloud of pain rushes in and engulfs me in shame, fear, and above all, guilt." I sensed a tremor in his voice.
"It was a Friday. Third July, a pleasant summer day in 1942. Hitler was suffering from a prolonged sore throat. His untiring work schedule, very little sleep and stubbornness didn't help him recover. He was in a rotten mood most of the time.
"The head-cook, a young Austrian lady by name Manzarly, was looking at traditional concoction as a possible remedy. I was in good terms with her, though I was just one of the junior helpers in her kitchen. I suggested an age-old home remedy from Kerala that I was used to for a variety of bronchial infections and fever. A mixture made from the extract of bitter gourd, dry ginger, black pepper and a pinch of salt, served warm. Though extremely bitter to taste, I have always found it to be very effective. I made a few combinations for Manzarly to taste. Then it went for a round of security checks and was finally served to Hitler in his office. I accompanied Manzarly. Hitler was busy as always. There were many officers waiting outside. Inside his sprawling office, Hitler was sitting immersed in a document, his trusted lieutenant Hemmler sat across the desk.
"Hitler took a sip from the shot glass, still looking into the document on his desk. His expression suddenly changed, looked straight at Manzarly and yelled "what is this?" she in turn looked at me, baffled. I was terrified at the sudden turn of events. Hitler repeated more vehemently "what is this???" I mustered some courage and said, "joos, joos." ( Note: a typical Malayalee pronunciation for "juice" that sounds like Jews.) Hitler thundered, "I hate Jews (ich hasse Jews), destroy them, kill them, eliminate them," continuously punching both his hands on the desk like a lunatic. Hemmler quickly went to Hitler's side. Both me and Manzarly were whisked away from the scene.
********
"Soon after the incident, Hemmler ordered mass-scale killing of Jews. In just over a month that July, lakhs and lakhs of Jews were massacred in Nazi-occupied Europe. That continued mercilessly till the end of the war in 1945. In the heat of the war and the swift developments around, there was no time left to think of oneself. Yet, a thought lingered in me… was I, in a way, responsible for all this atrocities?
"As war was coming to a close, a sudden sense of remorse took over me… my conscience blaming me for the merciless killings… Hitler killed himself. With the help of Manzarly, we escaped to Innsbruck in Austria, her home town. For the next ten years or so, I took up several odd jobs in Europe, never ever revealing my days serving Hitler to anyone. While working as a helper for the film industry in London, I got to work on the sets of David Lean's movie and landed in Cylon.
"But then you never went back? Did you try to go back to Kerala?" I asked.
"I was in my 30s by then. I had nobody… never thought of getting married. My guilt was eating me away from inside. I couldn't open up to anyone… out of fear and later also for fear that people may think I am out of my mind. The pent-up guilt was too much for me to bear. Outwardly, I could still manage doing many odd jobs, earned enough to maintain myself. I lived every day as if there was no tomorrow. And I dragged myself this far!" He paused. Tears filled his eyes and a drop rolled down and shattered on the rough terracotta floor beneath.
"Well, your fears are out of place. Hitler's hatred for Jews is a historical fact, isn't it?" I tried to reason out in an attempt to console.
"Yes, still the events on that day could have precipitated it… Hitler was a crazy man…
"Today, at this very moment, I feel so relieved… liberated… broke out of the chain that was tormenting me," Bose broke into tears and wept like a child.
Meera suddenly woke up, exchanged a glance between the two of us, completely perplexed. Words refused to come out of her half-opened mouth. I moved towards her, put my palm over her hand and gestured everything was okay. As we bid goodbye to the old man a little later, he looked calm, yet sobbing.
********
We were on the fifth and last day of our tour at a beach resort, not too far from Colombo. We had our return flight that day around noon, hence started early from the resort. The driver by now became very friendly and offered to stop for some last minute shopping at Colombo, even though we were slightly behind schedule. We stopped at Odel for some quick shopping. As we came out, we found our car parked close to the exit. The driver was on the phone. Seeing us, he wound up the conversation and signaled us to come. At last, straight to the airport, the last leg of an eventful holiday to celebrate our silver wedding anniversary!
"Sir, I was talking to one of the guides at Kithugala," the driver said as we were nearing the airport. "Remember the old man you were talking to for a long time, Sir?" he paused briefly and said.
"He is no more."
-jm
---