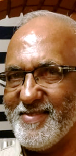 Short Stay

It is another Friday, nearing midnight. I lie down waiting for the usual ordeal from beyond the wall separating the two flats. Soon her feeble cries fill the room. I close my eyes tightly. Faint noises to start with, suddenly pick up the pitch and tempo, and then a few whimpers later, it dies down. I lie tight-eyed for some time to make sure it has all settled down… and then I open my eyes slowly and stay awake while my wife by my side continues to sleep through all this. I don't know when I finally slip back into slumber.
********
We moved into the one BHK upstairs portion of the largish house only a few weeks ago. That is, just about a month-and-a-half after we got married. Well in time before my wedding, I had fixed up a brand new two-bedroom flat in a suburb not too far from the heart of Chennai. I was then staying with my brother and family in the same locality. The owner, a young bank officer, suddenly had to give it to his father's friend. He profusely apologized, but I was left with very little options to find another place at very short notice. Luckily an old friend introduced me to the house owner living on the ground floor. They had modified the first floor into two independent portions. The single bedroom portion had a decent living room, a largish kitchen and spacious bedroom with a built-in wall cupboard. Beyond that wall was the next dwelling unit. The house owners seemed to know my friend, Devanand, very well. " Hope Anand told you everything," the landlady told me as I went to finalise the lease. "I prefer a gentleman's agreement on plain paper, if it is all right by you," she said. I agreed as I was prepared for anything, considering the spot I was in. The very next day I met the landlady again and signed the agreement. Only then, I heaved a sigh of relief.
The multi-national publishing company I worked for then (in the late 80s), had a rather leisurely work culture. I managed to get one month leave from work for my wedding and visits in and around hometown. We managed to fit in a brief holiday to a hill resort too. On our return to Chennai, we stayed with my brother for a few days and soon moved into the new house. We were quite excited to set up our first dwelling. With whatever savings I had and the wedding gifts received in cash, we populated the house with decent cane furniture, a fridge, cot and a small TV. Our work places were not far apart on Mount Road and we set out together every morning and came back on my motor cycle. There would be some shopping or visits on the way back, and usually we got back rather late, in time for a quick dinner.
The next door neighbor was another Malayalee couple, Ammu and Joseph, around their late 30s. Ammu was a well-built lady, who was an athlete. We rarely got to see Joseph, who had a sales job and was mostly on travel. He would come late on Fridays and spend the weekends at home. A couple of days after we moved in, there was a commotion next door late in the night. It seemed a thief had tried to snatch Ammu's gold chain through the open window when she was asleep. She suddenly got up and screamed and the thief ran away. Next day the house owner lodged a police complaint. We didn't hear anything about the thief later. From that day, we moved our cot well away from the window and made sure to close the window every night!
I started encountering the Friday-midnight ordeal a few weeks after we moved in, 3rd Friday if I remember right. Perhaps I was asleep on earlier Fridays. On that day I got up at night to go to the rest room, and had some water later and got back to bed. We met Joseph for the first time on that day as he and Ammu came home soon after we finished dinner. We exchanged the usual pleasantries as neighbors and we both invited each other for a meal on a convenient day later. Ammu was soft-spoken and gentle. Joseph had a cultivated manner, but I found something about him a little unsettling and crude. Was he a sadist, or did he get over-intoxicated and took it out on her? I was not sure whether this happened only on Fridays. Joseph usually went back on Sundays and we would usually be away on Saturdays, either at my wife's home or at my brother's place. I once thought I would share this with Meera (my wife) to check with Ammu. But then I felt it very odd and decided to keep it to myself for the time being.
********
A couple of months later, during one of our visits to Meera's home in Anna Nagar, she felt sick. We went to her family doctor. The doctor examined her and said smilingly "congratulations… You have to be very careful during the first pregnancy." Then she looked at me and said sternly "no travel by bike or auto rickshaw for at least three months."
We came back home on my bike, I was riding rather carefully though. That Sunday night we talked about the doctor's advice. What do we do the next day and the week? Taking a bus to work involved some 20 minutes' walking to the bus stand, waiting for the bus, managing in the crowd and another half an hour or so of travel time in the bus! That felt like just impossible. Nevertheless we decided to continue our routine for the time being and explore the possibility in a few days.
Monday morning was always hectic. I finished all routine, had a hurried breakfast, got ready and we got down. I park my bike under the staircase, but I found it missing! I was completely lost for some time. How could it just disappear? I then found the side box thrown away in the backyard. I slowly came to the harsh realization that my bike was stolen! I reached to my brother. Then together we went to the police station and gave a written complaint along with copies of the bike documents. By the time we finished these formalities, it was close to noon. That day we had no other way but to travel by bus and attended work for half-a-day.
It was tough to get adjusted to the bus-travel routine. But one thing we realized – the travel was partly relaxing. Since we got in from the starting point, we always got a seat, but coming back was not easy at all. This routine lasted for some three months as the doctor advised, and believe it or not, the police traced the culprit, a Sri Lankan youth with LTTE connection, and got back my bike in three months!!
********
In the meantime, my Friday midnight episodes continued unabated. It was no longer scary for me. But for the intrusion into my sleep, I dismissed it as the neighbor's private matter. After the bike incident, we were seriously considering shifting to Anna Nagar, closer to Meera's mother's house. Soon after I got my bike, we found a house in Anna Nagar and decided to shift at the earliest. The current house owner showed his displeasure in our moving within six months, so I offered a month's rent as compensation. I called up Devanand from my office and informed him about our plan to shift and thanked him profusely for the timely help. I was worried that he may be annoyed about our vacating the premises within a short time. To my surprise, he sounded too happy about my moving to Anna Nagar and he promised to visit us in the new house.
There were not too many things to pack. The transporter promised to bring a few workers to pack and shift. We decided to shift on a Saturday evening, so that we could rearrange things on Sunday at the new premises. On my last Friday night at the house too, the ordeal unfolded as usual. Next day morning, as the packing was on, I met our neighbor to say goodbye. I didn't see Joseph, "did Joseph leave early this weekend?" I asked. Ammu. "No, he didn't turn up this week end, he's off to a sales conference in Cochin."
"Oh really, but I heard…..." I started blurting out, before I realized what I was about to say, and suddenly stopped and said "…I thought I heard him." We both were visibly embarrassed. I quickly exchanged my pleasantries and got back to supervise packing. But my mind kept thinking of what I just heard from Ammu. If Joseph was not there the previous day then how did the midnight ordeal play out? Oh my God, was I beginning to imagine things?
********
That Sunday evening, the very next day after we shifted to the new premises, Devanand dropped in to see me. He spent some time, we had tea together and he suggested we take a stroll at the park nearby. We settled down on the lawn in the park. Devanand appeared a little serious when he started the conversation. He pointedly asked me whether our stay at the earlier place was all fine. I said, but for some annoyance from the next-door neighbor, everything was okay. It was a memorable place as a first-house for us. Then he continued grimly.
" Jay, I want to tell you something. First of all, my apologies for not disclosing this earlier but please trust me that my intention was noble. I knew well that you had no other option than that house at that time. The house owner told me something after I confirmed to you that the place was available…. A month before that, a gruesome murder took place there. The previous tenant killed his wife, cut her up, covered in a polythene sheet and dumped the body in the wall-cupboard. He then absconded. The body was discovered only after a week or so. The land lady told me that she got the entire place thoroughly cleaned up and sanitized. She also performed an elaborate puja to mitigate any harmful effects. I too went up with her and inspected the place."
I was stunned, and a question popped out of my mouth "was it a Friday…. Midnight… I mean the killing…"
"I don't know that" said Devanand, "but why do you ask?"
"No, nothing…" I said.
---
-jay menon