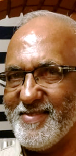 A Marghazhi Surprise

The sky turned magical against the setting sun. A palette of red, yellow mixed with deep blue; shades of purple and a magnificent fireball radiating brilliant rays piercing the clouds around. The scene was spellbinding. The rock formations and the stone sculptures seemed to compete each other to grab attention for their respective stories. Though I had been to Mahabalipuram to witness the marvels in stone on a few occasions earlier, today I felt it very special. My gaze got fixed on the single elephant at the bottom of the sprawling canvas of 'the descent of Ganges.' Suddenly, for a fraction of a second, I saw a bare boulder of rock with just that elephant figure. In the very next moment, everything was back to normal. It was a disturbing experience. I sat on the stone embankment at the monument for a while to collect myself.
We all got back to our resort on the sea front near the Shore Temple for dinner. It was a family get-together. The resort organized a fabulous private dinner for us in the open. Our group, some twenty of us, consisted of kids, teenagers, middle-aged and elderly. It was great fun… lots of music and laughter, blended with moderate doses of gossip. I went late to bed, the teenagers were still at large.
Staying awake on the bed, I realized that the experience that touched me that evening had not waned away. Our cottage was not too far from the sea. I moved to one of the chairs set out on the veranda. The December night was cold, I wrapped my shawl tightly and sat with closed eyes. The rhythmic music of waves and the cool breeze were gentle. I slipped into a meditative mood and soon travelled afar…
********
The herd of goats didn't get much to munch in the rocky terrain. I was a shepherd boy of sixteen or so. As we walked, I heard repeated noises of metal striking against rock. We walked towards it and found a handsome young man tapping on different rocks with his hammer and chisel. I walked up to him and asked, "what are you doing, my brother?" The young man ignored me for a while and continued with his job. He then leaned over a large boulder and retorted "come after Margazhi, I will have a surprise for you."
I moved from village to village with my nomadic family. Seasons changed painting the land in varied hues and patterns. Then, there was a surge of festivities. A feel of divine grace filled the air. Arasi kolams, with a line of ants feeding on them, appeared in front of every house. I suddenly sensed the onset of Margazhi and was reminded of the young man and his promise of surprise. I will have to walk for days now to reach the port city of Mamallapuram. But that did not deter my urge to meet the man, or my curiosity to unveil the surprise waiting for me.
When I reached the rocky terrain again, the sun had started to set. The sky wore a palette of red, yellow, deep blue and shades of purple. A huge setting sun radiated brilliant rays piercing the clouds around. I could still hear the noises of chisel and hammer against the rocks. But now the soft and heavy tones took a melodious, rhythmic pattern in highs and lows, weaving music in the air. Finally, when I reached the destination, I couldn't believe my eyes. What I saw was beyond all that I could imagine and have ever seen -- a half of a life-size elephant in stone had emerged from the hard rock boulder! I had no words to describe the beauty of what I saw. "How did you know that the elephant was hiding there?!!" I blurted out in amazement.
"Just like I found you," he replied!
… long after, I was sculpting a fine figure, he was by my side, but now very old. People call him "Akshara," with great respect …. Suddenly a large piece of rock fell from somewhere, Akshara… Oh no…
********
I suddenly woke up from my trance in distress. Cool breeze and the music of waves welcomed me back. I needed that soothing touch so badly in that hour.
-jm